耳機擴大機 ►Apogee Groove USB耳擴神器-錄音室頂級DAC隨身耳機擴大機(低失真/四顆DAC晶片/600 Ohm/適發燒級大震膜高阻抗耳機/24bit/192kHz) Mac/PC電腦(原廠公司貨)
※此商品不直接參與全館折扣活動
耳機擴大機 ►Apogee Groove 耳擴神器-頂級DAC隨身耳機擴大機(低失真/四顆DAC晶片/600 Ohm/適發燒級大震膜高阻抗耳機/24bit/192kHz) Mac/PC電腦(原廠公司貨)

Apogee Groove USB耳擴神器
錄音室頂級DAC隨身耳機擴大機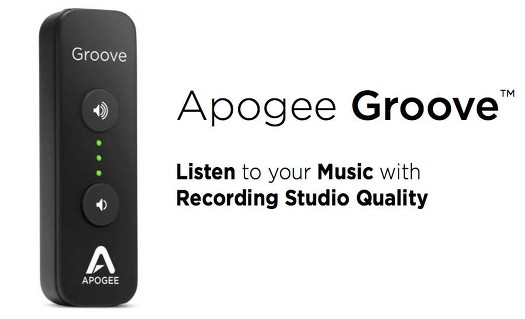 不可思議的輕巧,卻擁有世界頂級規格DAC晶片;就是Apogee Groove的利害!
超越市面上既有低價HiFi DAC的還原能力
完美匹配您的大震膜高阻抗耳機來重新針對您所珍藏的無損音樂做更深入的聆聽
進一步挖掘出您過去未能聽見的細節,展開您的發燒之旅!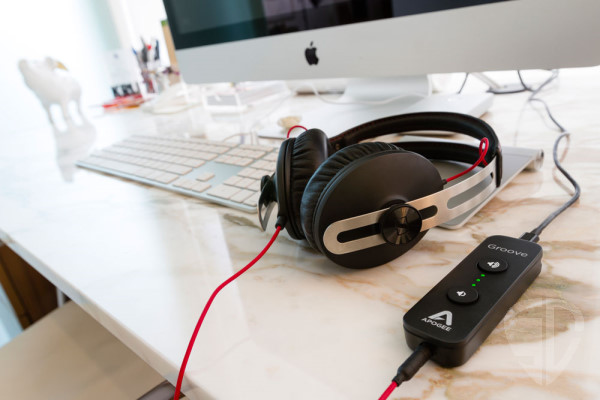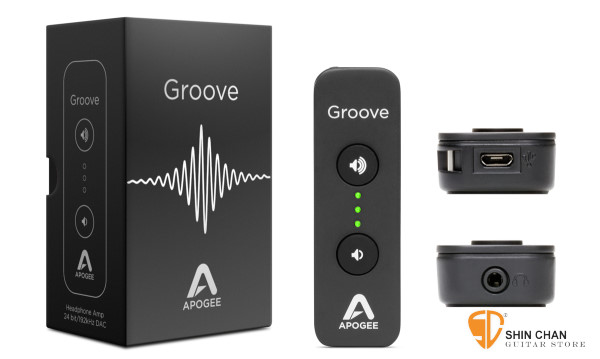 Apogee Groove USB耳擴神器-錄音室頂級DAC隨身耳機擴大機
低失真/四顆DAC晶片/600 Ohm/適發燒級大震膜高阻抗耳機/24bit/192kHz
隨時隨地,走到哪都能享受頂級錄音室般的聲音!
材質:鋁製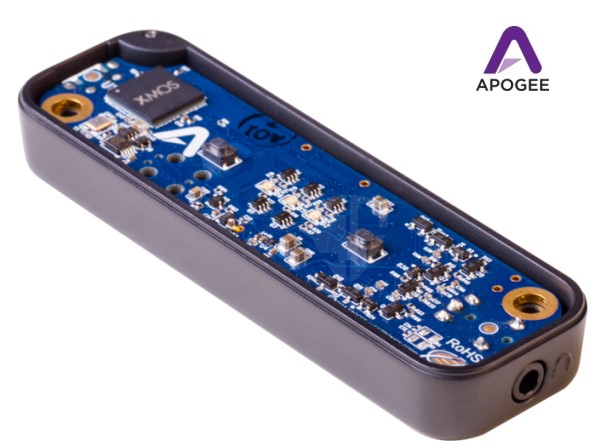 Groove's Unique Circuit Design
Make any Headphones Sound their Best
Groove's Constant Current Drive output stage dynamically compensates for the nonlinearities – acoustic, mechanical or electrical – of any connected headphones, resulting in lower distortion and a more linear frequency response. Whether listening through earbuds or "hi-fi" headphones, you'll discover a new level of fidelity, clarity and detail.
Quad Sum DAC™
Groove also features a Quad Sum DAC design which employs four digital-to-analog converters per channel to achieve the highest dynamic range and lowest distortion (THD+N) of any device in its class.
ESS Sabre DAC Technology
ESS Sabre32 32-bit Hyperstream DAC with Time Domain Jitter Eliminator offers unequaled dynamic range, ultra low distortion, and unmatched audio clarity free from input jitter.
Apogee Groove 可用於Mac電腦/PC電腦
全新原廠公司貨,保固一年!附贈Apogee Groove USB線
※此為耳機擴大機,不含耳機喔!
規格亮點
•USB 2.0 connection to Mac and PC
•Up to 24 bit / 192kHz audio
•Enhances your iTunes, Pandora, Spotify, Tidal or other music listening experience
•Constant Current Drive™ provides smooth frequency response with any headphones
•Quad Sum DAC™, 4 DACs per channel for highest dynamic range and lowest distortion
•Multi-color LEDs for status and level indication
•Top panel buttons for adjusting volume level
•Compact and portable (95mm L x 30mm W x 16mm H)
•Premium aluminum build quality
Apogee Groove影片
Apogee Groove is the best portable USB DAC and headphone amp for listening to music on your Mac or PC. Groove takes the same high quality audio technology found in the world's most prestigious recording studios and delivers it to your laptop. Connect Groove to your computer's USB port and your headphones or powered speakers to Groove's audio output. It's that easy. Groove's output provides ample power at any impedance and Apogee's Constant Current Drive™ technology makes your headphones sound their best. You'll be amazed by the difference in sound quality – the precise stereo image, punchy bass and stunningly clear high-hats.
Recorded by Apogee. Played by Groove.
For 30 years Apogee has been an innovator and industry leader in digital audio recording. From rock to classical, hip-hop to country, and reggae to jazz, the world's most successful artists, producers and audio engineers rely on Apogee gear to capture GRAMMY winning recordings. Now, for the first time, Apogee Groove takes this same recording studio technology and makes it available in a simple take-anywhere device dedicated to delivering the ultimate listening experience.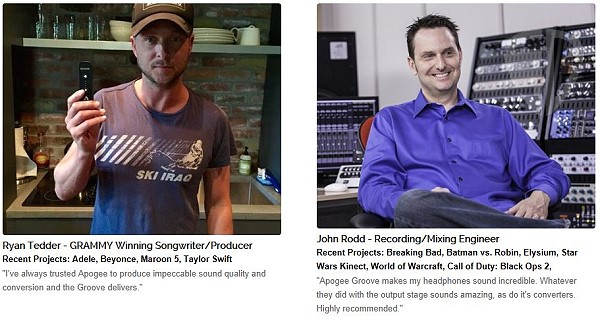 全球頂級錄音室、音樂人推薦 Apogee Groove USB耳擴神器-錄音室頂級DAC隨身耳機擴大機
低失真/四顆DAC晶片/600 Ohm/適發燒級大震膜高阻抗耳機/24bit/192kHz
※此為耳機擴大機,不含耳機喔!